Sarah Yong (from Singapore, 2020)
I learned a lot on the bio-psychology of the body & understanding how each Asanas affect & improve our overall well-being.
Ajuntha (from Singapore, 2020)
The course has given me a solid foundation to practice Yoga.
Ghanti (from Singapore, 2020)
The course has given me an additional set of tools and knowledge which has groomed me into a better yoga practitioner. My pranams to Dada as he patiently dealt on complex topics like yogic philosophy and yoga cosmology as they were challenging to grasp!
Prasanna (from Singapore, 2020)
The course gives a strong basic foundation knowledge on origin, history and branches of Yoga. You will learn here that Yoga is not gymnastics. Poses can be learnt from Youtube nowadays. Philosophy and purpose of yoga is more important.
Letitia Chang (from Singapore, 2014)
I was looking to learn and understand yoga beyond those years of yoga gym memberships signed and renewed. And I am grateful that one year later (upon completing the course), I can officially conclude this course was the best choice made.
From anatomy, history, philosophy, creativity to yogic treatments and more, the Ananda Marga Academy's course structure is methodically and faultlessly put together. I felt that the flow of course comfortably prepares me for progressive learning in the later stages. Therefore, I advocate this course for both individuals with minimum yoga knowledge or someone with yoga experience who like to look for deeper personal development.
Most importantly, I have learnt intellectually and spiritually from these sincere teachers, who are practical experts themselves. They share inspiring yoga knowledge and enriching experiences as Acaryas (yoga monks/nuns). They also constantly encourage a comfortable, reflective and mindful learning in our classroom. Last but not least, the friendships shared in the classroom has been heart-warming. This course has awaken my awareness that Yoga is beyond the mat, it develops you in a wholesome manner. If this is what you are looking for, this course is what you will get and more!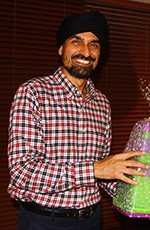 Jaswant Singh (from Singapore, 2013)
The diploma teachers training program at AMIA (Former Ananda Marga Yoga Academy) opened a new chapter in my life. It has enriched my life in many ways: it helped me be more conscious of my inner feelings, to be more contented with my life, improve my health and most importantly, it helped me open my mind to many incredible things that I took for granted in life. Our yoga master / teacher is a very dedicated and passionate person. I am moved by his deep sincerity and patience.
Besides the numerous asanas we learnt, here were ample hands-on practices and we were given opportunity to teach or be assistants at yoga classes at the Centre. We were taught various yogic practices and how they benefit us physically and mentally. I personally experienced these benefits when my lower back pains, regular work related headaches and sciatic pain on my right leg slowly disappeared as I did some "prescribed" asana by my teacher. I also met many wonderful and like-minded individuals in the academy and we had lots of fun together. I feel very lucky to have graduated from here and feel like I have gained an extended family. Before I signed up for this course, I "shopped" around for about 2 years at other yoga centers before deciding to sign up at the AM Yoga Academy. I think it's probably the most established and comprehensive yoga academy in the region. I have never looked back since.
In fact, this program is probably the best thing that happened in my life – besides marrying my lovely wife.
Bala Iyer (from India, 2012)
For me being part of this Yoga academy has been a life changing experience.
I joined the academy with some basic knowledge of Yoga and during the journey I found out there is much more to Yoga than just 'Asanas'.
I enjoyed all the lectures and found them to be inspirational, giving a new perspective and a deep meaning to the way we think about life. It all makes sense now!
Lee Soon Keng (from Singapore, 2011)
Although I've been taking yoga since 1988, I've never thought of going further than practising it as a form of exercise and relaxation until I took yoga classes at Ananda Marga in 2004. The asanas, or yoga postures, are simple and yet their benefits on both the physical and mental aspects are plentiful. I had wanted to train in the Raja Dhi Raja Yoga to become a teacher but at that time they did not have any yoga teacher training courses. It is only in 2011, their 4th intake, that I am able to commit time to the 10-month Diploma Course.
The course is an eye-opener. It encompasses not only asanas and meditation, but also yogic philosophy, history, creativity (what a surprise!) and an overall holistic way of living. It also opened my eyes to new scientific concepts. It teaches practicality and adaptability. It teaches inner calmness and reflectivity. The camaraderie and friendship made in class is an additional plus. Not only does the course have local teachers but also highly knowledgeable guest teachers from overseas. It is a course that I highly recommend to someone who is interested in yoga, even if one does not intend to teach.
Chong Nyuk Lan (from Singapore, 2011 )
As a cancer patient still under medical treatment, simply concerned about my health problem, I joined the Diploma course at the Ananda Marga Yoga Academy. The location of the academy is at a prosperous and lively district, but to my surprise once I stepped inside the school, the aura of the place was totally different from the (outside) elsewhere; it's calm, peaceful and cozy!
We have learnt about the history, philosophy, science and practices related to yoga and yogic treatment. And after going through the Diploma course I realize that yoga is not only an exercise for physical health as I thought before; it is a meaningful life style that brings us physical, mental and spiritual health. Lastly, I sincerely want to thank Dada Shankarsana'nanda for his way to guide the class, especially for leading us to sing the kiirtan.
Leong Wai Ming, Bernard (from Singapore, 2010)
I came to the teacher's training course (diploma) after taking a few yoga classes with Ananda Marga. I appreciated the style of yoga which was gentle and yet focused on enhancing the physical and mental benefits for the practitioner. The course was a rigorous but rich one which dwelt into an in-depth knowledge of the asanas (yoga postures), the philosophical foundations of yoga, the science of aesthetics and creativity, yogic treatment for diseases and the study of classical yogic writings.
Beyond that, it was deeply transformational as it meaningfully brought me into a deeper understanding of how to live my yoga. With it I am beginning to rediscover my core being, and how to courageously live with a more natural rhythm and openness to life. Under the wisdom and guidance of the teachers, the 10 months started a process of self-reflective journey for me. I would highly recommend this course for those who want to know more than just the knowledge of yoga; & how to truly live it.
Alma Arcelia Gonzalez Lozano (from Mexico, 2010 )
My experience as a student of the Certificate in Yoga Science, Practice & Lifestyle at Ananda Marga Yoga Academy has been extremely enriching. Not only have I gained control over my mind and body, but I have also developed an understanding of universal spiritual truths that, in turn, have contributed enormously to my personal development and fulfillment.
What I enjoyed most about the course is the fact that students are able to put all the acquired knowledge into practice. Indeed, the course is very hands-on and, as such, it goes beyond textbook theories, concepts and principles in order to allow students to experience yoga as it is: a physical, mental and spiritual discipline that expands awareness and brings health and joy to the life of the practitioner.
After taking the course I find myself to be healthier and happier. As an added benefit I am also lighter! But, more importantly, my perspective on life has expanded and I am now able to relate to everything that happens in my life and in the world. Therefore, I have no doubt that this course can be of great help to anyone intending to broaden their horizons and improve their quality of life.
Seema Vashist (from India, 2009)
My participation in Yogic activities at AMYS over last one year has made me a more confident person in general and fearless speaking in front of audience in particular. This has reversed the trend of me becoming shy and losing confidence over many years.
I find my body more flexible and mind more relaxed. I get a feeling of closeness with god which has kindled in me a desire to know the real meaning of life and its purpose.
The content and the instructions given in my yoga teacher training course are simply explained in an interesting way and I find it very useful. The course consists of lots of creative and useful activities which are taught in a way which keeps up the interest. All my thanks to Dada Shankarsan'ananda (who will advise you as a father help you as a friend and guide you as a master) and his associates. I consider myself lucky to have joined this course. Worthy of time and effort spent!
Amy Woo (from Hong Kong, 2008)
No glamorous venue, no model facilities, nothing more than just yoga. It is the most down-to- earth yoga class I ever attended in my 6 years yoga practice and the most rewarding one too. Every aspects of yoga have been covered and discussed. Apart from the basic knowledge and skill in teaching, I learnt the way to share my passion on yoga with others and I learnt to become a real yogi. I highly recommend this class to everyone who is interested in yoga, not matter you are beginner or long time practitioner.
Radhika (from Singapore, 2008 )
Namaskar! All the modules offered in this course are very interesting and broadens my knowledge and sound understanding and appreciation of these subjects. The course has deepened my knowledge and understanding of these yogic subjects and has thus enhanced my spiritual outlook in my life. As a spiritual practitioner, it has allowed me to understand my spiritual practices deeper and to appreciate those practices. On the other hand, as a yoga teacher, this course has improved my teaching skills and i have gained much confidence in teaching my students. This course is certainly grooming me to become a well versed yoga teacher and a guide to my students and their needs. Our academy lecturers Dada Shankarsan'ananda and Dada Dhanjoo Ghista are both dedicated teachers in their respective fields. I am very lucky to be under their tutelage. This course will pave me towards my physical, mental and spiritual growth and progress and to become a better individual in the society. So for those aspiring yogis and yoginis, yoga students and teachers, please consider this academy course and thread on this beautiful journey of self development and discovery of your inner potentials.